In speaking with recruiters, one of the most common things I hear is that Google doesn't do anything for them.
And of course, that is true. For the vast majority of recruiting firms, Google will do nothing to help your business.
But imagine a different world. A world where actually you spent time working on the SEO for your site. A world where you rank on the first page of Google's search results for all of the keywords related to your business.
How much better off would your business be?
It's time to stop imagining as I am going to show you what this world looks like and conclusively prove to you that continuing to ignore Google is a HUGE mistake.
A Hypothetical SEO Case Study
Let's imagine you are an executive search firm specializing in the retail sector. How many visitors per month could you expect if you were on the front page of Google for all of the relevant search queries?
The beauty of this question is that we can easily break it down and come up with a very precise number.
We start by creating an account with Google AdWords (it's free!) and then entering "executive search retail" into the first section of Keyword Planner ("Search for new keywords using a phrase, website or category").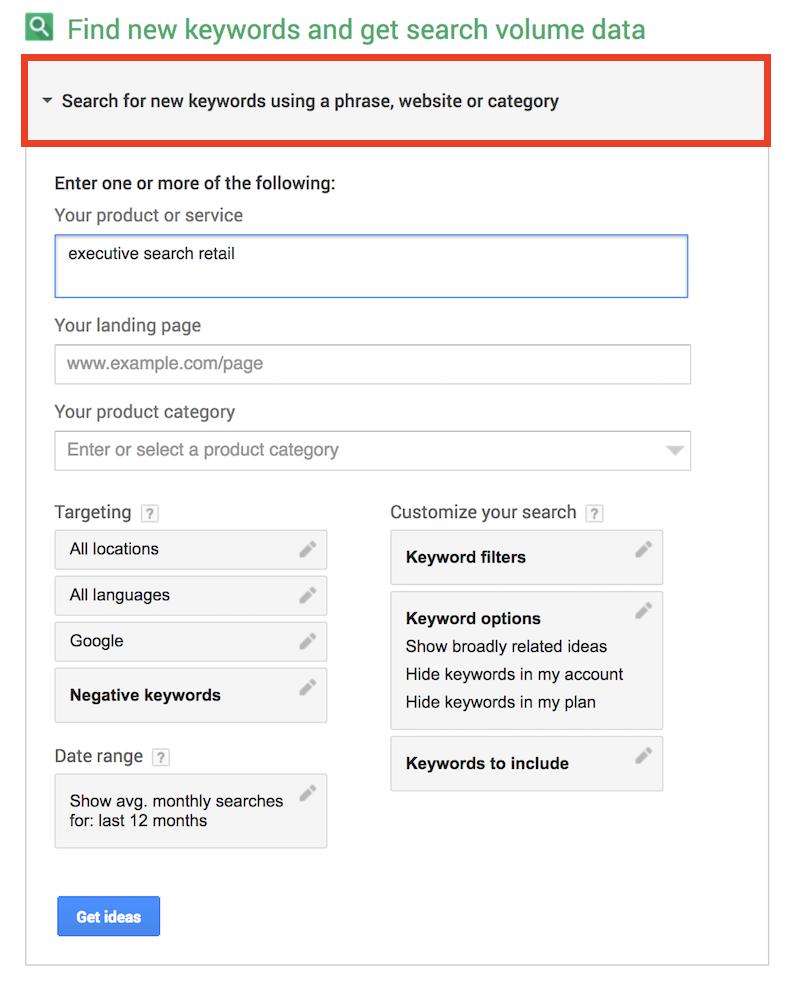 When do we that, Google will give us back a huge list of keywords (not shown).
After sorting through the list and looking only for keywords that specifically pertain to executive search in the retail sector, we end up with the following list of queries we want to target:
• executive retail recruiters
• headhunter retail
• headhunter retail management
• recruitment retail
• retail executive job search
• retail executive jobs
• retail executive recruiters
• retail executive search
• retail executive search firms
• retail headhunters
• retail job recruiters
• retail management headhunters
• retail management recruiters
• retail management recruitment agencies
• retail recruiting firms
• retail recruitment
• retail recruitment agencies
• retail search firms
In essence, we now have a blueprint of how a client looks for a recruiting firm in the retail sector.
We now put these keywords back into the second section of Keyword Planner ("Get search volume using data and trends").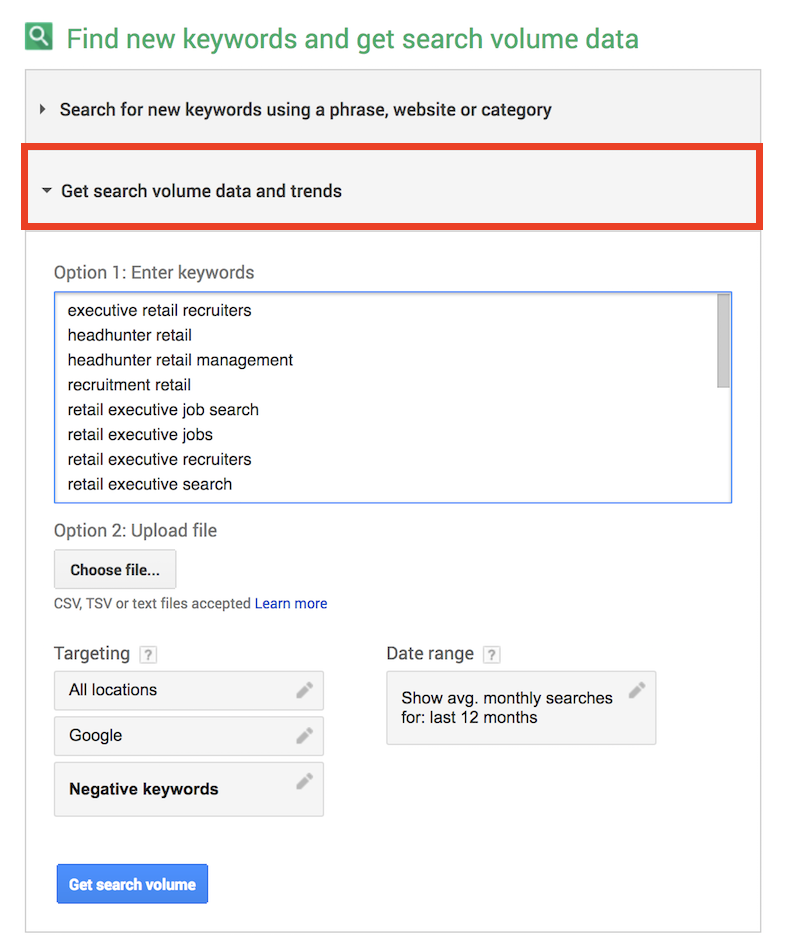 And bam! Google gives us a pretty-looking bar chart and table.
We can review the search volume in a given month we would expect from targeting all of those keywords.

And we can break it down further by individual keyword.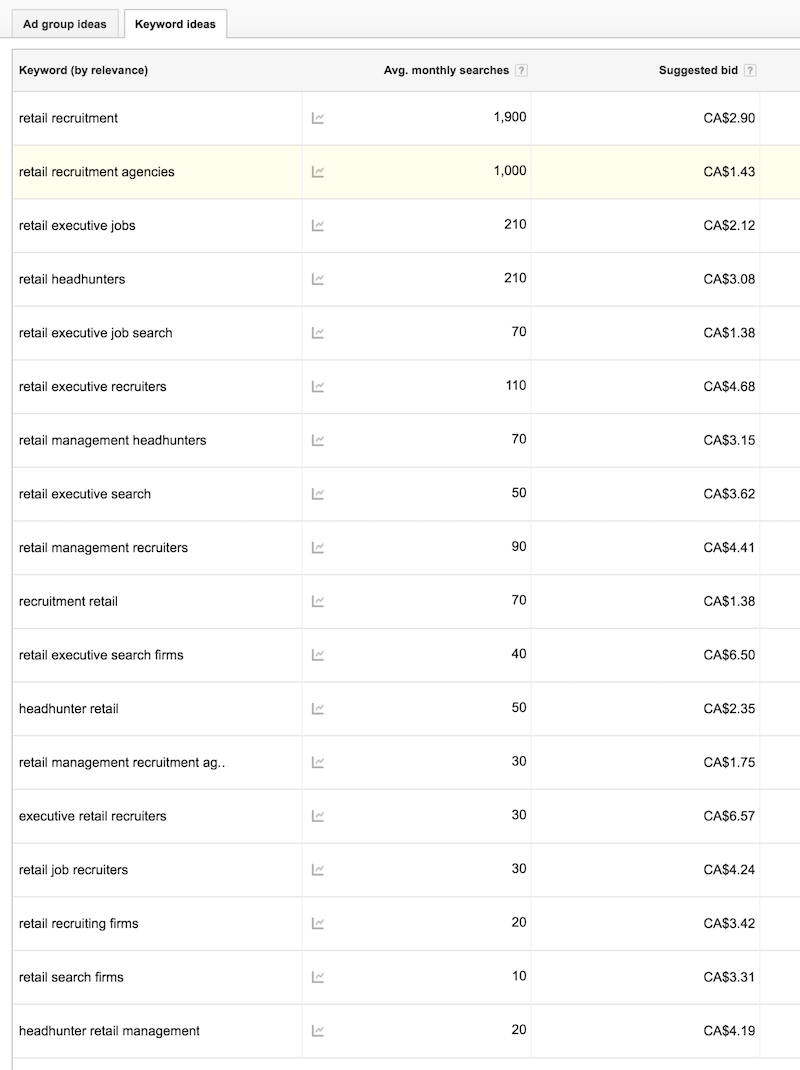 So what do we see? There are about 4,250 search per month for these queries alone!
Now let's do some basic math.
Let's assume that you figure out how to rank in the third position, on average, for these search queries.
According to Moz, a leading search engine tracking company, you can expect people to click on your search result about 10% of the time when you are in the third spot on a Google search results page.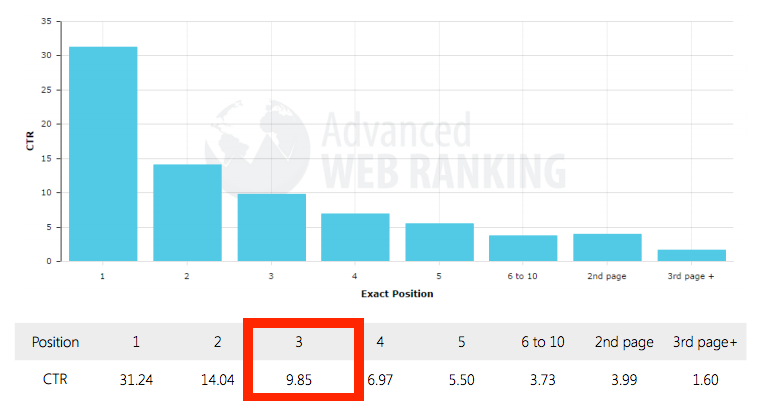 In other words, by ranking for just these keywords, you will receive 425 new visitors to your site per month (4,250 search impressions * 10% clickthrough rate). If you can turn just 0.5% of those visitors into new clients (1 in 200!), you would get about about 2 new clients per month or 24 new clients per year from dominating these search results.
(Here's the math in full: 4250 [search impressions per month] * .1 [clickthrough rate] * 0.005 [conversion rate] * 12 [months per years = 25.5 [new clients per year])
The math doesn't lie. It is obvious that dominating Google search can bring huge benefits to your business.
So Now What?
It's one thing to see what it would be like if you dominated the search results. It's quite another to actually do it.
Getting there is not always so easy. So if you want to learn more, stay tuned in the coming weeks as I expand on what you need to do take your website from search zero to search hero.
And if you don't want to wait, book a call with us now and we'll walk you through the process over the phone.