There are 12.9 million results for the search term "how do recruiters find clients". There are 42.3 million for results for "how to get clients for a staffing agency". It is obvious why. New clients are the lifeblood of a recruiting firm and it is always a challenge to find them in a highly competitive market.

However, as you can see by the numbers in the image above, the blog post on how to find clients for your recruiting business or staffing agency has clearly been done to death. I'm therefore not going to bother re-writing another basic post with a title like "How to get clients in the recruitment business" and waste your time. Rather, I've created a list post with a twist.
Instead of restating a bunch of obvious "tips" for finding new clients that every recruiter should know on day one, I've listed the basic idea for reference purposes and then added a twist that will either make it easier to implement or show you how to implement it more effectively.
Let's go!
Table of Contents
1. Find open jobs on job boards
If a business has posted a job on a job board, they could typically use some help from a recruiter to fill the role. Call them up and see if you can offer your recruiting services, either in coordination with an internal recruiter or on your own.
The twist
Crawling job boards can be tedious. Instead, use a tool like Data Miner to create a "recipe" that scrapes data from different job boards on a regular basis and provides you the date in a spreadsheet. You can then easily search the spreadsheet for jobs that have recently been added or updated or filter it by keywords in your niche to find jobs where you can add the most value. If you need help setting up your first recipe, you can go to Data Miner's office hours from noon to 2 PM Pacific on Monday to Thursday (full details here).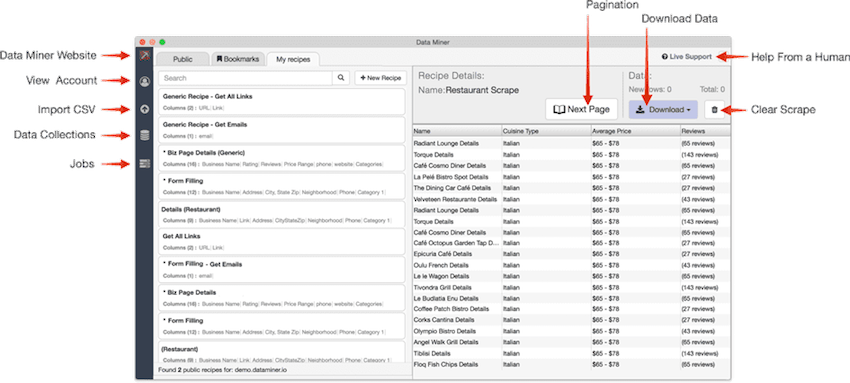 It's not easy to set up a recipe but once you do it, you have a powerful tool at your disposal.
2. Use social media to expand your reach
Every article on business development in the recruiting space talks about using social media. On its face, this makes sense since almost every person who is a potential client is on social media.
The twist
The problem with using social media is that most recruiters or recruiting firms do not have a following on social media and will never be able to develop a following because they will not spend the time required to do so. Instead of spending hours each week liking, sharing, re-tweeting and commenting, create a highly targeted ad campaign using demographic data to find your clients and candidates directly. Of course, there is a financial cost to this approach but the time saved is often worth it.
3. Employ e-mail marketing
Despite the fact that e-mail is one of the oldest marketing tools on the Internet, the data shows that it works. You can get highly effective results from e-mailing your database with a relevant newsletter.
Not interested in finding your own clients?
Talent Hero can do it for you
The twist
Most email campaigns are awful because they are purely self-promotional. Instead of pitching your recruiting services to your entire list, consider segmenting your list by industry and choosing a highly relevant article to send to each segment. By doing so, you can offer value to everyone and still retain the opportunity to include a small blurb in each newsletter about how you can help with their next search.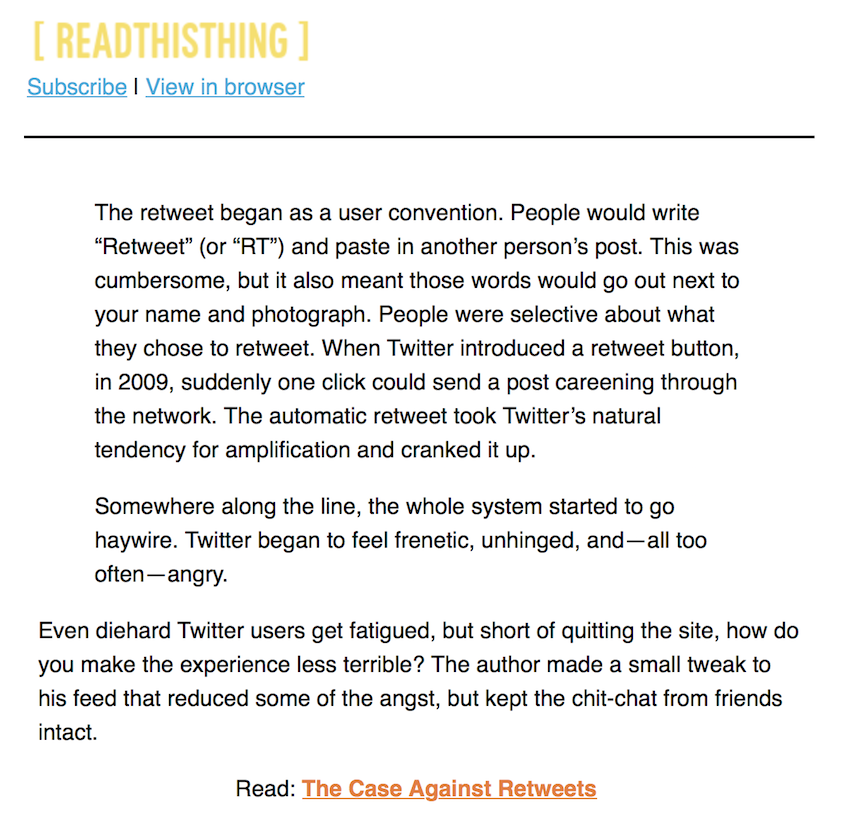 ReadThisThing does a great job with this approach.
4. Cold email hiring managers
While many people talk about how cold calling and cold emailing are dead, anyone who does it knows that this could not be farther from the truth. Cold emailing and cold calling will never completely lose their stigma but there is no question that they work.
The twist
There are thousands of e-mail templates all over the Internet that discuss how to send the optimal cold e-mail to find new recruiting clients. I'm not going to re-write them. Instead, I'm going to talk about how you can build a targeted e-mail database with virtual assistants. Go to Upwork and search for "virtual assistant" and you will find hundreds of qualified people from all over the world who will help you gather e-mail addresses for $5/hour or less. For a hundred dollars, you can have a list of 500 hiring manager e-mail addresses that may be perfect clients for your recruiting business.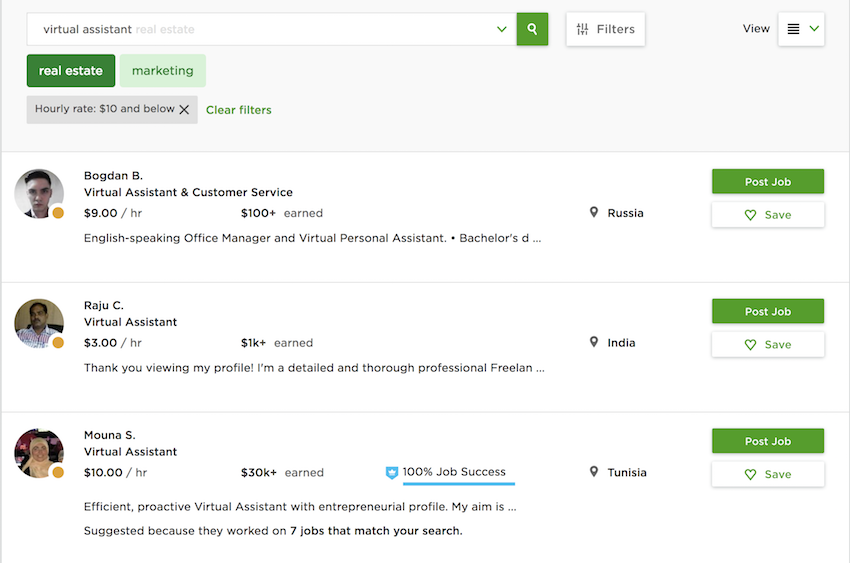 These are just three of many affordable options.
5. Follow up with past clients
This one is so obvious that you might argue it shouldn't be included. However, it's surprising how many people fail to maximize the value of their network.
The twist
Make sure you take advantage of every opportunity to continue to grow your relationship with your clients. When you've filled a role, ask for feedback on how the project went to illustrate that you care about improving. Send your clients cards for every holiday to stay top of mind. Ship them random gifts in the mail to delight and surprise them. It's not that hard to show people that you value them.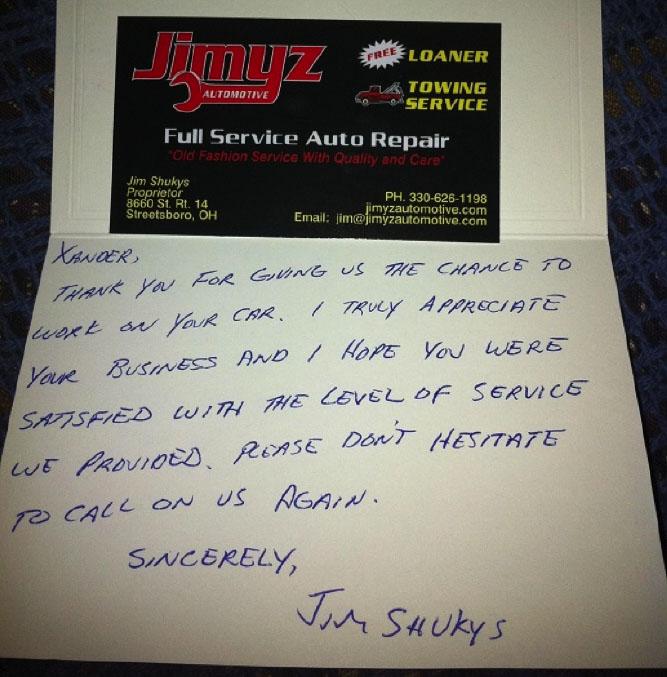 Wouldn't it delight you to get this from your mechanic?
Not interested in finding your own clients?
Talent Hero can do it for you
6. Stay up to date on your industries
The ability to have an informed conversation with a potential client about their industry can often mean the difference between landing a new role and losing out to a competitor. People like to work with people who they think are like them so it makes sense to be able to speak your clients' language.
The twist
It doesn't have to be that hard to stay up-to-date. In fact, all you have to do is create a Google Alert with keywords related to the industries you work in. Set the alert to email you with new stories every week and you can stay informed in under 30 minutes. There is no worse feeling that finding a potential client for your recruiting business only to lose them on the sales call so avoid that trap like the plague.

Some news alerts for a recruiter focusing on data science.