Last updated: March 10, 2022
Sourcers often face a gruelling task. They are expected to find the best candidates available for a job in a compressed timeframe even though most of these candidates are not even looking for a new position. The passive candidate problem is quite possibly the trickiest challenge in recruiting.
While there are many different ways that sourcers go about solving this problem, one which is still overlooked is Facebook groups.
Facebook groups are moderated communities where users go to discuss pretty much every topic under the sun. There are groups for dog lovers, camping aficionados, fitness enthusiasts and Instant Pot obsessives. If you're looking for a group for even the most obscure hobby, it shouldn't be a problem.
And this is perfect for sourcers. Why? Because for many professions, Facebook groups are the only active communities on the Internet that will allow you to get your job posting in front of a targeted audience for free.
But before you start searching for your groups and posting away, make sure you understand the rules of the game.
Join the group
Most Facebook groups are closed, meaning that you must ask for permission before joining. The administrators of some groups will admit virtually anyone but others are far more strict.
For example, the Javascript group asks three questions to every prospective member.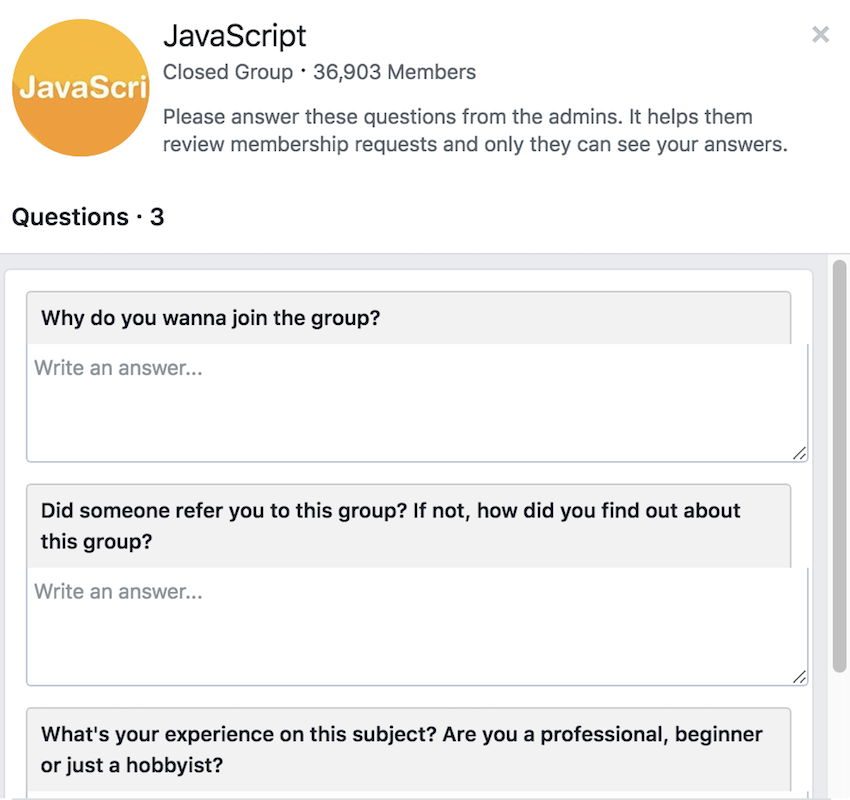 If you want to get into a group that asks questions, I'd suggest not mentioning that you are a recruiter and instead, get a bit creative with your answer.
Learn the lay of the land
Every group has a different feel. To know how to best approach your sourcing task, you're going to want to learn the feel of your particular group.
More specifically, your goal is to figure out if you are going to be able to post a job posting directly in the group or if that is not allowed under any circumstances.
Decide on a course of action
At this point, you should have a good feel about whether you are going to be able to get away with posting a job posting somewhere in the group.
Job postings are permitted
If a job posting is permitted, make sure that you do it the right way.
First, add some value to the group. That means engaging in conversations wherever possible and offering your perspective based on what you've seen in your job as a recruiter. If you immediately start posting jobs, you will be seen as a spammer and it's likely you'll be quickly banned from the group.
Next, when you are ready to post your job, make sure that your job posting has a proper image, title and meta description in addition to the standard post caption. Use this guide to figure out the right size for your image so it is't cropped. In short, you want to make it pop!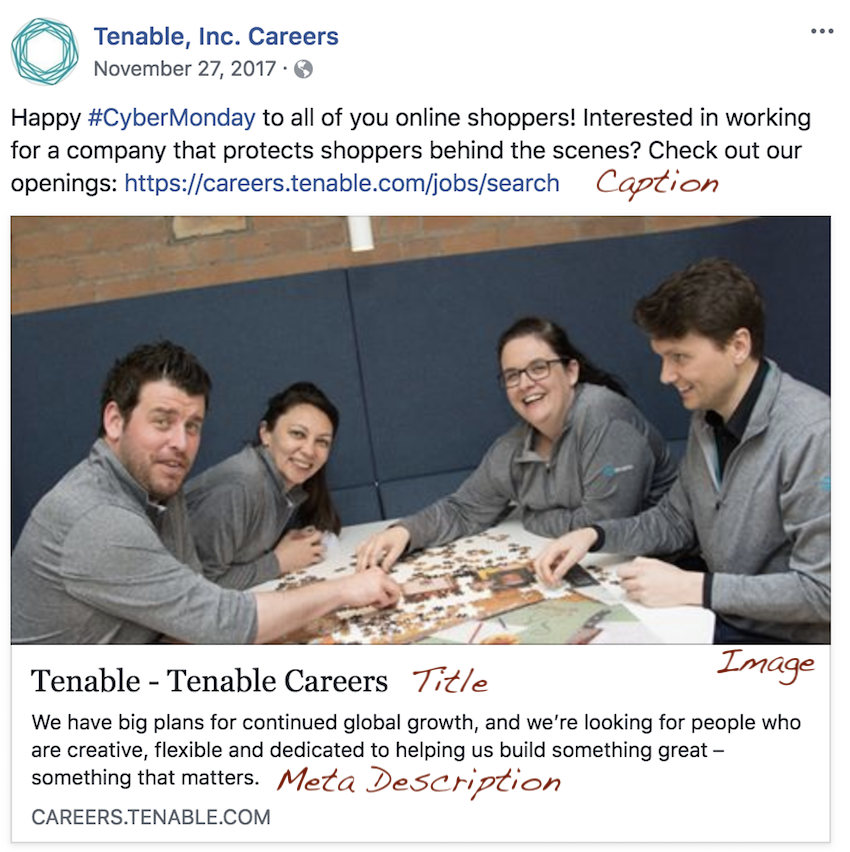 A perfect example of an engaging job post
Job postings are not permitted
If a job posting is not permitted in any form, you are going to have to get a bit more creative.
What groups should I join
The list of groups is quite long so we've compiled some for the most popular industries. When searching on your own, make sure that you check out both global and regional groups. The regional groups (grouped by either country or state/province) are often the biggest goldmines.
Accounting
Development
Doctors
Engineering
Insurance
Human Resources
Nursing
Supply Chain
Sourcing (Tips for sourcing)