A well-rounded content marketing strategy in the recruiting and staffing industry typically will involve the publication of a whitepaper – an authoritative report providing information on a relevant issue in an industry. A whitepaper can be an excellent marketing tool because its in-depth nature is a great tool for conveying the expertise your recruiting company has in a given space. For instance, a whitepaper on hiring trends in the market for developers would be a perfect topic for an IT recruiting firm.
As with all forms of content marketing, the challenge with using whitepapers often comes down to how to turn your content into new leads. Many potential new clients will find your content but never reach out once they have a role to fill since they have forgotten about you by the time they are ready to hire. Fortunately, when used effectively, gating your whitepapers is the perfect way to provide value to your reader while simultaneously capturing lead contact information for your recruiting company.
In this article, we will walk you through the steps required to gate your whitepaper and use it to drive new leads to your business.
What is gated content?
Before we delve into why you should gate your whitepapers and how you do it, let's explain the term "gated content". Gated content is anything that you have to fill out a form to access.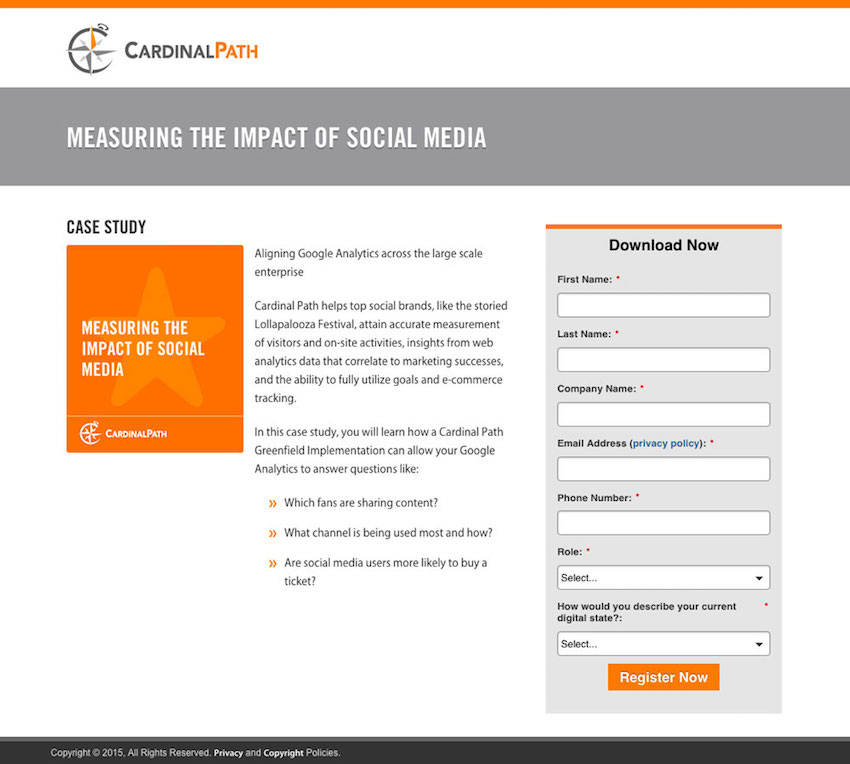 In the example above, you must fill out the form (open the "gate") to gain access to the case study on measuring the impact of social media.
Why you should gate your whitepapers
When you make your whitepapers accessible only after the reader provides contact information, you will dramatically reduce the number of people who read the whitepaper. Why? Because people know that once they provide their contact information, they are susceptible to being contacted with follow up emails or phone calls.
So if we know that gated whitepapers leads to fewer readers, why is it still a good idea to place your content behind a form?
Because the most important metric that you must use to judge the effectiveness of your content marketing is new leads, not total readers.
Let's take a look at how this works in practice. Wilson & Ellis Consulting in Asheville, N.C. ran an experiment with a single guide (similar to a whitepaper) where it was gated on some days and ungated on other days. They found that downloads were 47 times higher on days where it was ungated. However, when they looked at the people who ended up contacting them, they found that 100% of the leads downloaded the guide on a gated day.
What does this tell us? People who are willing to give up their contact information are far more serious about reading your content and engaging your recruiting services. In most cases, it makes sense to sacrifice readers to gain new leads.
How you should gate your whitepapers
Depending on how your website is built, there are different ways you can set up your whitepapers behind a form.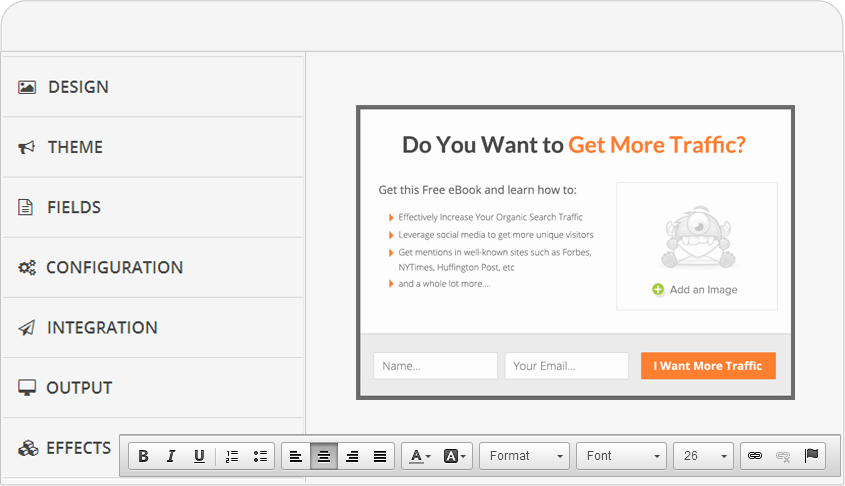 If you use a WordPress site, you can check out OptinMonster. Ranging from $9 to $29 per month (billed annually), this tool, available as a WordPress plugin, allows you to capture lead contact information with forms and also offers additional feature such as A/B split testing, floating bars and exit-intent technology. Even if all of those terms are gibberish to you, you should be able to set up the plugin without assistance and the $9 per month plan will have all of the features you need.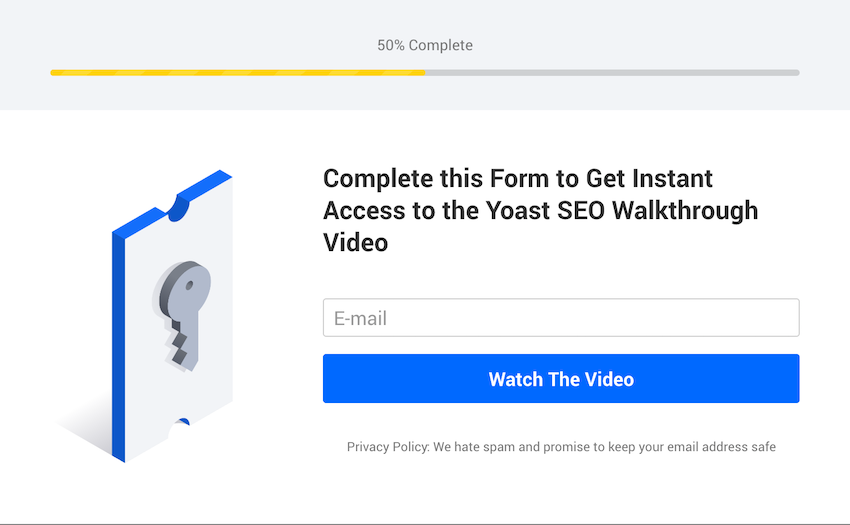 If you don't have a WordPress site or want to try the leader in the industry, you should check out Leadpages. The advantage of Leadpages over many of the other options available is that it allows you to create beautiful landing pages (the page in which you will insert your form) in addition to the form itself. The downside to Leadpages is that it is pricey. The Standard (cheapest) plan on monthly installements is $37 per month. However, if you intend to create a significant number of landing pages and are all-in on content marketing, it might make sense to opt for the more expensive option.
Finally, if you really don't want to spend any money, you can set up a form for free but be ready to dive deeper into the code than you may want. For example, MailChimp for WordPress will allow you to build a form that is connected to your MailChimp account but if you want the form's design to match the rest of your site, you will have to know some HTML and CSS (or find someone who does).
What happens when the user fills out the form?
Once the user fills out the form, it's time for you to deliver the whitepaper. Typically, there are two ways to do this (and whether you have both options available to you may depend on how you set up the form). First, you could direct the user to a Thank You page that contains a link to the download.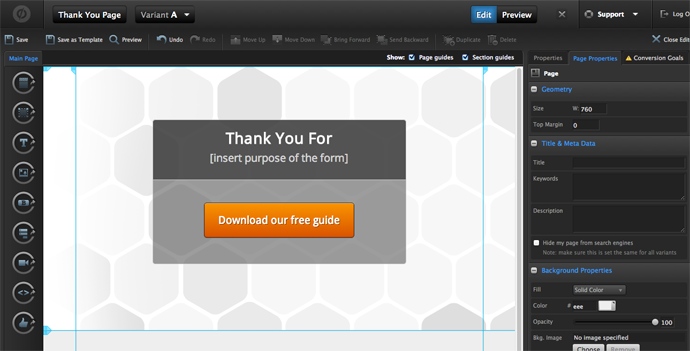 Here is an example of a form template that you can use with another form/landing page tool that we didn't mention above called Unbounce. Once you publish this page, you would link the button ("Download our free guide") to wherever you have stored your whitepaper PDF on your server.
Second, you could send the user a link to download your whitepaper. The exact setup depends on a) how your form is linked with your email list management software and b) your choice of email list management software.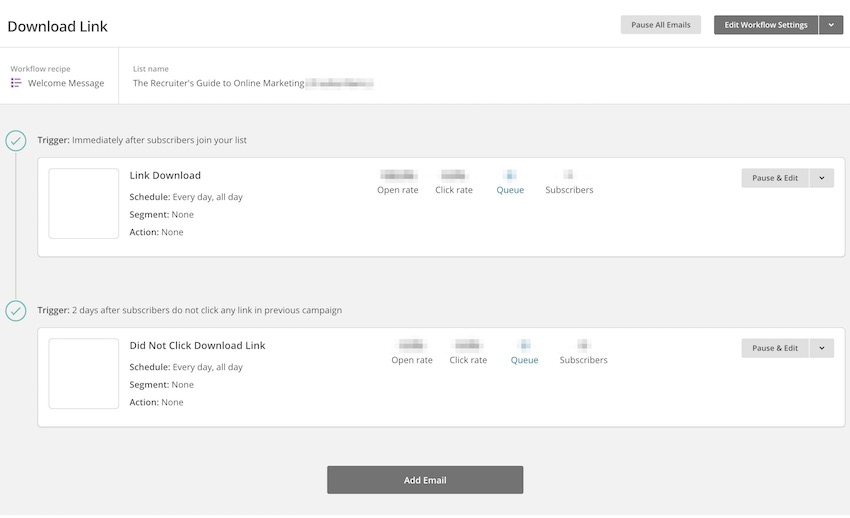 On the Talent Hero site, we gate The Recruiter's Guide to Online Marketing using a custom form that is linked to our MailChimp account. Within MailChimp, we have set up an automated workflow so that whoever signs up for the guide is sent a download link immediately. Furthermore, if you are sent the email and never click the link, you will be prompted with a second email two days later.
What do I do with my lead's contact information?
This topic is a post in itself (and something we intend to cover in more depth on The Recruiting Rundown soon) but generally speaking, you have a few options.
You can contact your lead immediately (via email or phone) to see if they have a role they need filled.
You can send out a series of e-mails (also called an autoresponder campaign) with more content you have created with the goal of "warming up" your lead. Once the series is complete, you can reach out to the lead directly.
You can sign up your lead to a newsletter and see if they reach out directly. While this passive option may not appeal to you, it is something that is done frequently within other industries to simply stay top of mind.